Veterans

Day

2022

Promotion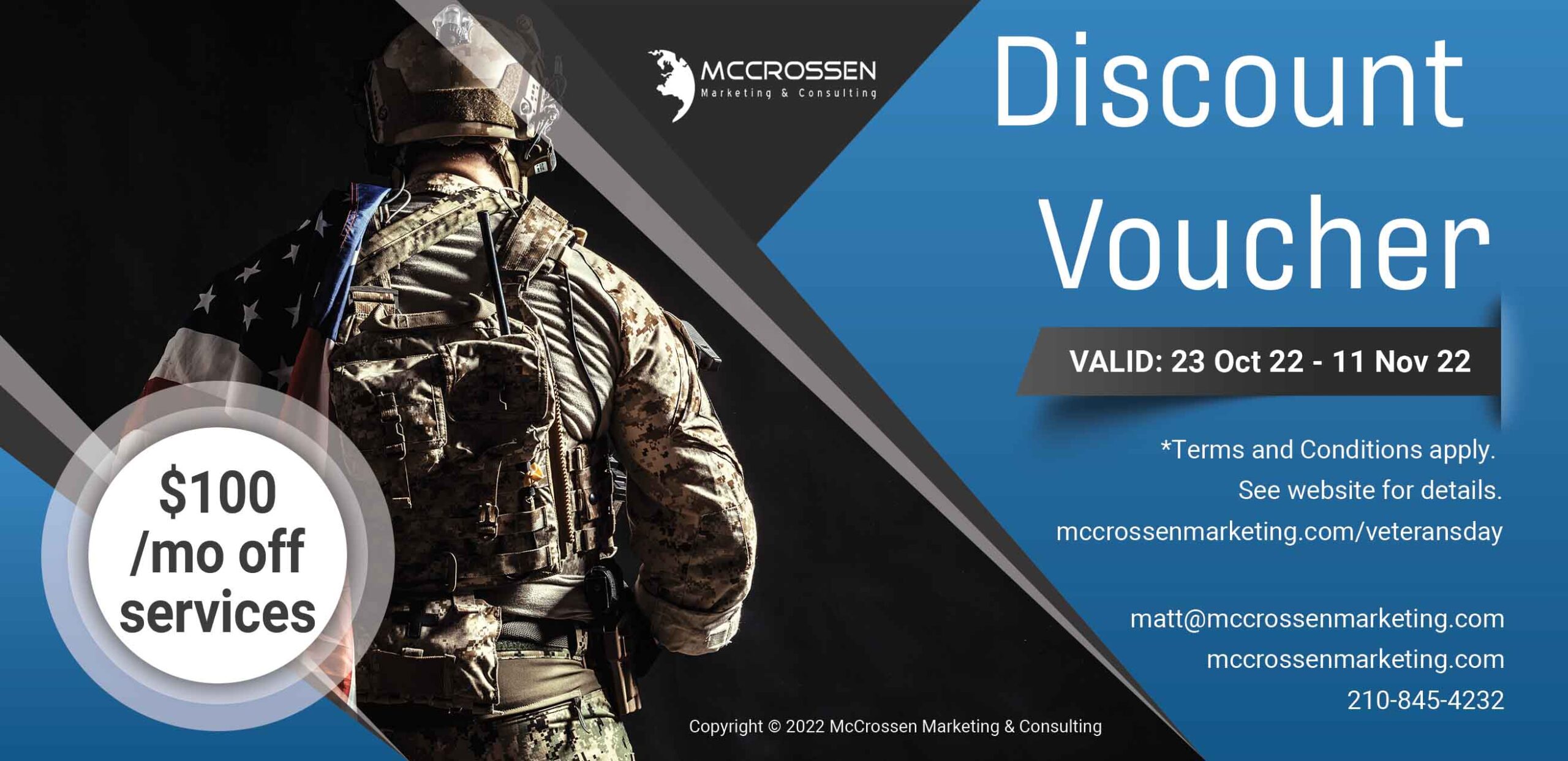 We are offering $100 off your invoice each month up to three months on most of our services. Please read the entirety of this page for details.
McCrossen Marketing & Consulting is owned an operated by a four tour Iraq War veteran and is offering a discount on our marketing services to eligible veteran business owners. Promotion ends November 11th, 2022.
What services are discounted?
Here is the list of services we will discount on your invoice for qualified veteran clients. Please note we are a full-service marketing and advertising agency; some of the services listed here are not advertised individually elsewhere on our website.
National SEO
Local SEO
Local Visibility
Social Media Marketing*
Google Ads*
Website Design & Development – WordPress
Website Design & Development – Magento eCommerce
Shopify Setup, Design & Deployment
Website User Testing Video Feedback
Infographic Creation & Distribution
Press Release Creation & Distribution
What services don't qualify?
Services we cannot offer a discount on are:
Advertising spend such as Google Ads, Facebook (Meta) Ads
Stock image licenses
Audio & video media licenses
Premium WordPress Plugins (plugins with paid licenses)
Complete the form below to include the proof of veteran status. We'll reach out to you during business hours to discuss what marketing services you want to engage in with us.
keyboard_arrow_leftPrevious
Nextkeyboard_arrow_right
1. No cash value. This discount does not refund cash or credit to clients.
2. Must provide acceptable proof of United States Armed Forces veteran status. Once verified, we annotate in your client records and delete the document provided.
Veteran ID Card
State Issued Drivers License with veteran status
VA Proof of Service Letter
Veterans Organization Membership Card
DD 214
DD 215
DD 256
NGB 22
NGB 22-a
3. Valid for use with contracts and subscription services self-purchased on mccrossenmarketing.com.
4. Valid for most types of corporate formations such as LLC, PLLC, S Corp, C Corp when proving at least one veteran controls >10% of the company.
5. Valid only in the United States of America and U.S. territories.
6. Valid for qualified services in the first three months of any contract or pre-paid subscription service off mccrossenmarketing.com.